Our Dog Wash Stations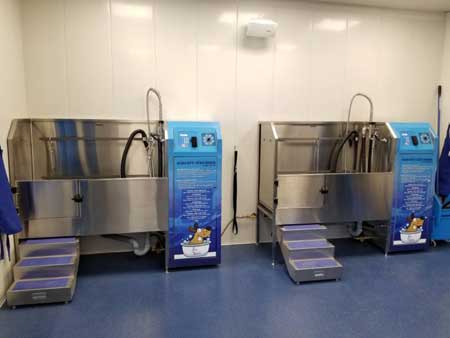 For many of us, a trip to a costly dog groomer is simply not an option, leaving us to resort to the only other choice we have — the bath tub — armed with a bottle of dog shampoo and a forced smile. While hardly anyone would consider washing and grooming a dog a luxurious activity, it is for your pet.
Luckily, even on a tight budget, you can treat your favorite pooch to the luxurious treatment offered by self serve dog grooming and dog wash systems, with a price you can afford!
Visiting our self serve dog wash is a great opportunity for your fuzzy friend to relax and enjoy getting pampered.
The cold winter weather is no problem either, because our self-serve dog bath stations have heated water, making even a winter bath warm and comfortable. Our stations also offer blow drying services so your dog doesn't have to go out in the cold wet.